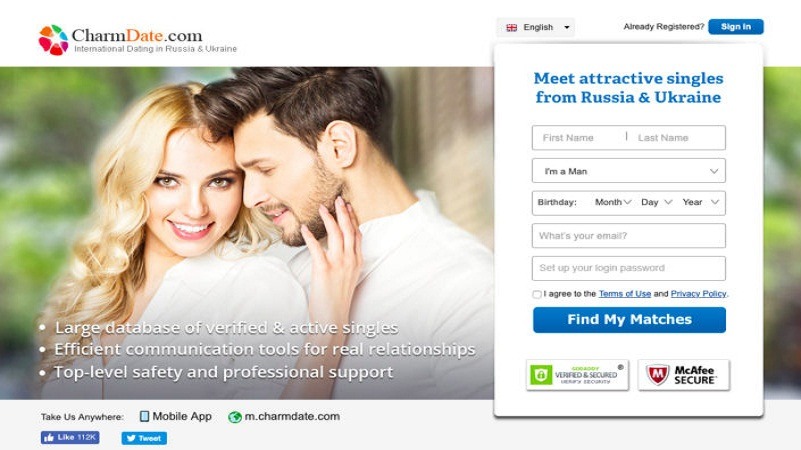 There is no doubt that CharmDate.com is one of the oldest running dating sites today. It has been around since 1998, helping millions find their ideal partners and create lasting relationships.
The site is owned by the Qpid Network, a company that runs a number of niche dating sites like AsiaMe, LatamDate.com, and ChnLove.com. Just like these sites, CharmDate.com has a specific target market. It is said to be one of the most popular online dating sites that allow men from across the world to meet and match with gorgeous Ukrainian and Russian women. It is also known for being a foreign marriage website where people find love.
Local Dating Agencies – CharmDate.com
In CharmDate's own descriptions of its services. It says that they rely on a "huge network of local dating agencies all across" Russia and Ukraine. When I dug a little bit deeper into this issue, it became apparent that this means many of the women are part of large, shady schemes to make money off of foreigners.
RELATED ARTICLE: Match.com
Frequently Asked Questions
How to edit profile details on CharmDate.com?
Go to the profile section and where you can edit your details. But you cannot change your name, date of birth, residence country, and current relationship status. If you want to change these you can contact with Charmdate support team.
What about online security on CharmDate.com?
Charmdate takes online security and privacy very seriously. The most innovative and cutting-edge technology to ensure registration and usage is under a high level of security and protection. Online data processing and payment systems are protected by GoDaddy and McAfee, leading authorities in online security. The processing services used by the site are verified by Visa and MasterCard SecureCode.
How to search members on CharmDate.com?
To search for a member in CharmDate, you can use the options listed below:
Quick Search
Advanced Search
Member ID
New Members - click on the Newest Members link in the photo gallery section to view members who have recently joined the site.
Members Online Now
How much do the services in CharmDate cost?
These are the list of pay-to-use services:
EMF Mail - 1 credit each read and send
Live Chat - 0.5 credits per five minutes (for text-only with one-way video chat). Emojis, stickers, and photos cost additional credits.
CamShare - 0.6 credits per minute
Call Service - 1 credit per minute
Gifts and Flowers - prices are listed on the site.
What is Call me to feature in Charmdate?
With this feature, you can authorize your contacts to call you. It's free to make an authorization but for the call itself, you will have to pay it. Your contact can then call you during your specified time.
What are Special Features in CharmDate.com?
CharmDate has a lot of innovative ways to let you communicate with people you like.
Admirer Mail
Live Chat
CamShare
Call Service
Gifts and Flowers
Virtual Gifts
What payment methods are accepted on CharmDate?
To purchase credits, you can use credit or debit cards including Visa, MasterCard, American Express, and Discover Cards. All credit card information that has been submitted on the site is encrypted and highly secured.
How do I know the members on CharmDate are real people?
All the lady profiles are verified. That means they have submitted a copy of their personal identification document with their photo.
Is CharmDate expensive?
In comparison to other providers, CharmDate is upper-moderate.
How do I delete my account on CharmDate.com?
Like other online dating sites, it is difficult to remove the account. To delete your account on CharmDate firstly you need to remove your images, profile details, etc. And then send a request to the Charmdate support team to delete your account.
Phone Number: +1 800-931-5079
Address: 71-75 Shelton Street,
London Asia, WC2H, GB
Reviews
I have recommended time after time
As my family and I were watching Hulu, the most disgusting commercial came on from this site and completely terrified my 5 and 6 year old children! I am extremely disappointed in site for even advertising something so horrific! Really satan with a site?! I have recommended time after time…NEVER AGAIN!
Do NOT waste your time or money on this site
Do NOT waste your time or money on this site. Let's forget about the fact that most of the people on here are mouth breathers who are in desperate need of a bath. 2/3's of the Top Picks on the site are NON-SUBSCRIBERS. If you are a subscriber and message a non subscriber they won't receive your message unless they rejoined or YOU PAY FOR THEM to read it. Stupid. I wasn't happy with their unethical business practices and so I not only canceled my subscription, but I also got a FULL REFUND. I'm sure most people don't think it's possible. Get your $ money back.
Bogus site
I question the validity of this site. It just did not seem authentic. I searched for local area single women and upon paying for the month service found that those who I had replied to who were supposedly in my area were in different parts of the country. While on the site there were numerous pop ups of women who claimed to be in my given area and upon trying to reply it showed that they couldnt receive messages etc. The site seemed legitimate. That is until I made my payment. Bogus site.
I really was scammed
I was sincere and heartbroken when I signed up on this site. My husband had died a year ago and I was lonely. I really was scammed. It is ridiculous how they feature nice looking and educated people they cut out of a magazine. There is NO WAY to contact the principals. I spoke with some nice desperate, sad men who did not deserve to be tricked.
Nonrefundable regardless
After spending a ridiculous amount of time answering questions, you'll discover that you have to pay to get any idea of what the available population is like. After paying, you discover that the population is minuscule and that your payment for 3 months is nonrefundable regardless.
Its gives you poor matches
Its gives you poor matches and doesn't give you the chance to search. You just have to accept what matches they give you. From the start, the autorenew facility is switched on and no warning is given in advance so it automatically renews after 6 months and there is no right to cancel. The first thing I would so is go in and turn off autorenew. Saying that, there are better sites that do allow you to search.
Be aware
I thought I would give it a try! Dreadful site, can't get any support, no access to help. I have cancelled my subscription and will be contacting my bank to make sure they don't take any more money. I had forgotten my password….so they sent me a link…however I had to put my current password in before I could change it…???? Last time I joined one of the sites I discovered that after I left it and deleted my profile and photo that it was still on the site 2years later. So be aware
So many fakes
So many fakes, scammers and catfish on this site! Not to mention this site want you to pay for a membership so in their wisdom they heavily restrict what you can use for free. Not sure how that inspires me to want to buy a membership!
DO not sign up for this nonsense.
DO not sign up for this nonsense. Do not waste your time. A friend signed me up for a 12-month plan. Cancelled within the 3 day trial period. Inaccurate cancellation policy stating I have to pay the remaining 11-month installments because the cancellation policy does not apply in my country. Cancelled PayPal direct debit then started receiving emails from collection house LTD. Paid the outstanding balance after sending numerous compliance emails of proof and evidence … asked to speak to CEO or someone more in charge of customer service at E harmony. No reply or response. Now paid for a 12-month service that I never have or intend on using.
Horrible experience
Awful app. Horrible experience. After using the app for two days (and not sending any messages or even matching with anyone) I received a message to say I was permanently blocked due to my 'behaviour'. I cannot possibly imagine how I could have violated guidelines without actually communicating with anyone. I'm a respectable 45 year-old woman, so perhaps this site thinks I'm expendable. However, I found the whole experience rude and upsetting. It's shocking that they claim to be founded on principles of 'respect' when they can treat people so badly.
So disappointed
So disappointed and think this is a fix. I joined this site about 1 month ago – did not subscribe, got lots of emails telling me how lucky I was and what a huge amount of interest I had! Guys were viewing my profile, every day for 3 weeks it told me I had at least 8 visitors. So I spent just over £32 for a months subscription. Four days, not one view on my profile!! Very disappointed! I wish I'd read the reviews here and saved myself some dosh. Thanks for nothing!!!
Don't use them
I cancelled auto renewal in March. They took automatic renewal in May and will only refund half the money. They are a con. I did not authorize a payment in May as I'd cancelled 2 months earlier. Also matches were in accurate and very few. Terrible service. Don't use them.
Complete waste of time
Personally, I have to eliminate multiple fake people every day which results in a complete waste of time. People go to this site to find a partner, but what they get is a bunch of fake accounts that claim they want to know you but end up trying to get your email and other types of information.
Thanks
Didn't like carousel feature. Didn't like men outside my age group contacting me. Didn't like having to potentially pay to see a profile. But I love that I got lucky early on a met a great guy. Thanks
I found this site
I found this site very confusing to use. I did not like the coins/carosel feature. I felt that the site should have used my preferences to prevent me from being an option on someone's carousel that did not match the preferences I chose for dating. I also didn't like that every time I scanned a picture to see who viewed me, it let them know that I viewed them. And after I deleted a bunch of views, all of the men I deleted came back up on my recently viewed, because they thought I viewed them. Very frustrating. However, I was fortunate to meet someone after several attempts to find the right person, so that was the bonus.
Dont waste your money
Dont waste your money. Some messages I received were not real.
Worst dating site EVER
Worst dating site EVER. Full of FAKE Profiles.
Meet creeps
This is just a dating site to meet creeps, that only care about sex not love. This Website took away alot of features, they took away the best one. profile trackers..you can't see who is checking out your profile no more.
Avoid this site at all costs
I paid for a membership and it seems most profiles are fake. You are contacted a lot but you are almost immediately asked to leave the site for Hangouts or WhatsApp. The profile says they are in the same city but they are not. Not one "person" I spoke to was in my city. Everyone ended up wanting money for a scam. Reverse search the images and they are of different people. Avoid this site at all costs as the US government sued it for fake profiles put up by criminals
It is an amazing platform
It is an amazing platform to meet some great people among which you can find your true love! You can find a compatible partner who will love you and that is a great thing! I think the best thing about them is that they really help you build confidence and find out what you really want.
Yes a lot depends on luck
Yes a lot depends on luck. But obviously on your self and profile. What your looking for And people are on site who you both see interested in each other's points of view and look ok.
I met some very nice women
I met some very nice women had a bit of fun very easy and quick to met new people and l met someone special who will be my friend for a long time.
I highly recommend this site
Well it has been a long time since i have been using this site. I had also tried other dating sites but this was the best among all other. So i highly recommend this site, i had good experience from this site and i recommend to try this site once,it wont disappoint you.
This is great place
This is great place if you are feeling alone or depressed because through this dating site we can explore new places with new member or new company and we can refresh our mood with happening person and place around us and best this about this site is they have high security policy.
All worked well
I found your dating site easy to navigate and use there are how ever a few problems like most sites you get the fakes which was a problem and people who are not what they say they are and the money hunters, but in general all worked well.
Nice Website
The site took a bit to get to grips with but once you get threw the profiles that aint really a match for you by computer random profile sends that aint really interested in you untill magic someone real appears and i end up writing this review give a go nothing to lose
It has worked for me
It has worked for me I have found my true love and soul mate
I found my wife
I was able to find a lovley girl that i have now been married to for 7 months
Thank you!
The very first person I met off of this website was a who they portrayed themselves to be online and was even better in person than they appeared online. I am looking forward to getting to know him even better. Thank you!
I couldnt be happier!!
A friend encouraged me to sign up here. She said had good quality members and that she was confident I would meet someone. She was SOOOO right!! We have been dating for 2 months now and I couldnt be happier!!
It was user friendly
It was user friendly. Notifications were used as a great tool to see who viewed your profile and if interest was shown. A very efficient and effective dating site.
The app is very easy to use
The app is very easy to use. I was a Member for 1 yr and had plenty of inquiries throughout. I paused my account numerous times and had even cancelled but restarted my subscription. Each time was very easy and seamless. I FOUND SOMEONE!
Don't sign it please.
This is a scam site, they start sending you messages with people liking you and messaging you after the subscription is ended, to renew the subscription. Total scam!!! Don't sign it please.
The absolute worst experiences
The absolute worst experiences I've ever had with dating.
This site is not real
Don't bother. This site is not real. Most of the women are fake to get your attention. There are very few people actually looking on this site. They like to recycle 'good' profiles even though these people are not even active. A waste of $$. I have petitioned my state AG to investigate this 'company' further.
Horrible horrible site
Horrible horrible site, avoid at all costs!! it's just an expensive scam!!!!
I really fell in love with
With charmdate you pay to exchange letters but you cannot exchange emails. One lady sent 15 letters and refused to give me her email. The letters were very compelling with a strong , loving future. Another lady I really fell in love with.