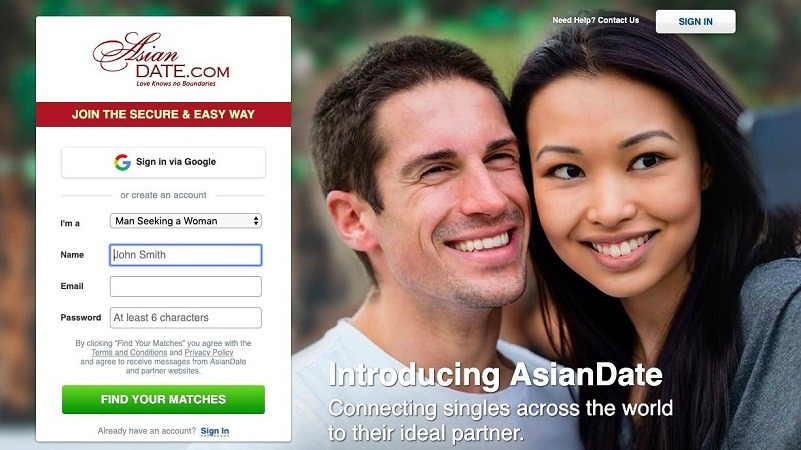 AsianDate.com is a popular online dating platform that connects singles from different parts of the world with Asian partners. The site is known for its vast database of beautiful Asian women and advanced communication tools that help users find their perfect match. In this article, we will take a closer look at AsianDate.com, its features, and how it can help you find love online.
Introduction
In recent years, online dating has become increasingly popular, and AsianDate.com is one of the most successful platforms in this space. The site offers a unique dating experience that focuses on connecting singles with Asian partners. With a user-friendly interface, easy-to-use features, and an extensive database of singles, AsianDate.com is a top choice for those looking to find love online.
About AsianDate.com
AsianDate.com is an online dating platform designed to connect individuals with Asian backgrounds to potential partners from all over the world. The website was launched in 2001, and it has since grown to become one of the leading online dating sites that focus on connecting people with Asian singles. The website's primary goal is to create an avenue for people to connect and form long-lasting relationships with like-minded individuals, regardless of their location.
AsianDate.com offers a user-friendly interface that allows users to browse through the platform's profiles easily. The site boasts of having over 4 million registered users, with over 10,000 new members joining every month. This high number of users offers a wide pool of potential partners, making it easier for individuals to find someone who fits their preferences.
The website is owned by SOL Networks Limited, a company based in Malta, and it operates under Anastasia International Inc. which is headquartered in New York. Anastasia International Inc. is an international dating service that focuses on connecting individuals with partners from all over the world.
AsianDate.com offers a range of features that make it easy for individuals to find potential partners. Some of the site's features include live chat, CamShare, and CallMe. Additionally, the website offers a mobile app that allows users to access the site's services on the go.
Creating a Profile
Creating a profile on AsianDate.com is a straightforward process. Users can sign up for free using their email address, Facebook account, or Google account. After completing a brief registration form, users can create a profile, add photos, and start browsing matches. It is important to note that the site uses a strict verification process to ensure the safety and authenticity of its users.
Browsing Matches
One of the most impressive features of AsianDate.com is its vast database of Asian singles. Users can browse through profiles of women from countries such as China, Vietnam, Thailand, and the Philippines. The search function allows users to filter their search results based on criteria such as age, location, and interests, making it easy to find a compatible match.
Communication Tools
AsianDate.com offers a range of communication tools to help users connect with their matches. Users can use the site's live chat feature, which allows for real-time messaging, or send emails to their matches. The platform also offers a video chat feature, which allows users to see and hear their match in real-time.
Safety Tips
AsianDate.com takes the safety of its users seriously and provides several safety tips to help ensure a positive and secure online dating experience. The site recommends that users never share personal information such as their address, phone number, or financial information with other users. Additionally, the site offers a "Report Abuse" feature that allows users to report suspicious or abusive behavior.
Success Stories
AsianDate.com has helped many users find love online. The site features numerous success stories from couples who met on the platform and went on to form long-term relationships. These success stories are a testament to the effectiveness of the site in helping users find their perfect match.
Conclusion
In conclusion, AsianDate.com is a top choice for those interested in finding an Asian partner. With a vast database of singles, advanced communication tools, and strict safety measures, the site offers an exceptional online dating experience. Whether you are looking for a casual relationship or a long-term commitment, AsianDate.com has something to offer.
RELATED ARTICLE: CharmDate.com
Frequently Asked Questions
How do I delete AsianDate.com account?
Account deletion can be requested through email correspondence with AsianDate customer support.
How do I chat with users on AsianDate.com?
In every search query result, there is a chat option which you can just click to begin chatting right away. However, this is not a free feature.
Is AsianDate safe to be a member of?
AsianDate has terms and conditions for fair use. It is up to you if you want to pay the website for its features.
Can I send a message for free at AsianDate.com?
Only the first exchange is free at AsianDate. If you want to interact with the members more, you'll be asked to upgrade by purchasing Credits.
Are the profiles in AsianDate.com real?
The authenticity of the profiles in AsianDate is controversial. There have been reports of stolen photos of women found on the website.
What is the price list of Asiandate credits?
20 Credits for 15.99 USD
160 Credits for 96.00 USD
1,000 Credits for 399.00 USD
What are the paid features of Asiandate?
There are many special features on AsianDate
Reply to letters Live
chat with female profiles
Cam Share
View videos on women's profiles
Virtual Gifts Flowers and presents delivery
Three-way call with an interpreter
Is AsianDate.com expensive?
Yes, In comparison to other providers AsianDate is expensive.
How does Asiandate.com Work?
Asiandate.com helps Western men liaison with the best in Asian women through a network of over 1000 dating agency partners located in cities across Asia. Asiandate.com brings romantic couples together in a number of ways starting with Search,
Email Correspondence and
Call Me, then move to "live" platforms such as organized dates in Asian.
What is Love Note on AsianDate.com?
It is easy to catch the Lady's attention by sending her Love Note absolutely free for you.
Just find the "Love Note" icon in her profile,
choose one of the most beautiful cards and
click "Send for Free".
Phone Number: +1 (800) 311-7598
Address: 551 5th Ave, New York,
NY 10017, United States
Reviews
It is terminated my account
It is terminated my account for NO VALID REASON. They refuse to refund me the $129.99 I paid for 6 months and only used it for 3 months because they sent me an email saying they decided to terminate my account as if I'm some kind of Nigerian scam or prostitute. Buyer beware. The WORST dating website.
I was unhappy
I joined this site and after a week saw that it wasn't performing like I had hoped. The amount of people available and the amount I liked and messaged versus how many of them viewed my profile. So I was unhappy after a week and called customer service for a refund. They refused to give me one, said I only had 2 days to do that. I told them just prorate it for the week I used. They refused and have stuck me with a service I don't want for 6 months. SO REMEMBER IF YOU WANT TO CANCEL YOU HAVE 2 DAYS!!!
My account was hacked twice
My account was hacked twice in one month. I was told by Flor (customer service rep) that the counts not provide me any information on how this happened. I was kept holding for a supervisor named Rickley who never took my call. I don't feel my concerns were met and it is unsettling to thinks someone could have access to your account.
Terrible Company
Terrible Company. Quick to take your money but provide inadequate Customer Service. Take your business elsewhere, this site has false advertising and ignorance in all aspects. Beware! Try other reputable sites! Avoid!
Don't sign up.
Okay so I decided to bite the bullet and pay for a dating site. Grant it I didn't do much research. I heard about this website on a television ad. So I signed up. I've been on about a month now and even though I've written guys they have never replied. Even when it says they are active. So I'm thinking its just a fake app that took my money and now they are laughing at me. I've only had one person say they are not interested and have received a couple of smiles. But when I replied… nothing. So hopefully my comments will save someone $150. Don't sign up.
Some of them are nasty
They dont talk to you ever they disappear and when you dont give them the info they want they disappear. Some of them are nasty
Just dreadful
Just dreadful, could write a long list but can't be bothered – good example can't even find the contact form to complain. Just awful – stay away.
Absolutely awful experience
Absolutely awful experience, poor customer service, terribly built site and rip off merchants. Make it extremely difficult to cancel an overpriced subscription which automatically renews without warning or an easy way to cancel. Reporting to Trading Standards, these cowboys need to be stopped.
I have wasted my money
This app has very few Australians on it. I get lots of likes from people overseas, mainly America but very rarely see any Australian men as matches let alone any in the area where I live. I feel like I have wasted my money.
Be careful!
I cancelled the day after subscribing to the free subscription! They've now signed me up for 12months! And continuously now harass me with emails etc. They've now sent me to collections! Be careful!
Negative experience
Too much advertising on YouTube it interrupts every single video, so that just irritates further after my negative experience. I downloaded it last year and it kept showing me matches in other countries when I put the settings within 20km.
Hopeless app
Hopeless app. Account deleted for no good reasons. Request for help fell on deaf ears. Each attempt to create a new account – I am a genuine guy, not a pervert or scammer – was also blocked and deleted within a few hours.
Fake profile
It uses trickery to get to you sign. My friend and I received contact from the same ?fake profile within minutes of using the app. Then surprise surprise, you can't see the messages without signing up. Then they have the 3 day cancellation period which does not apply to Australia but it does not state that….the way it's worded makes it seem like it only applies if you are a user in the United states. Help.
What a scam
What a scam. Save your money.
It is a great
It is a great way to meet people on this website.
It was ok
It was ok, kind of hard to maneuver and I wasn't sent matches that were what I was looking for.
Do not join its not worth the effort.
Do not join its not worth the effort.
Waste of money
Waste of money, time and effort. They will decide for you and manipulate your profile thinking women are viewing you when they are not.
Really bad site
Really bad site, lots of fake profiles and scammers. They will ban you from the site due to your ethnicity and you know what that means.
Men stay away from this site.
Men stay away from this site.
Keep trying
There's hope out just keep trying to find the one. See where it takes you
I have enjoyed several dates
After trying out a couple of different platforms, I came across this site. It has stood out as something more effective, I have enjoyed several dates with some nice people. Everyone was polite, respectful, and genuine
The site was easy to navigate
The site was easy to navigate. It would be better if you could apply a more refined search. Met some really nice people though.
I found the girl of my dreams
I think overall was stoked with the results so far. I went out on a few dates and had a good time hooking up with some cool people. So far can't say that I found the girl of my dreams yet but I am just not really looking for that now anyway. I'm using their app on my cellphone and it's fast and there always fresh faces to rate and people to chat with.
It is just the beginning
I have met a charming, affectionate, caring and attentive gentleman on this site. It is just the beginning, but God willing, I am looking forward to a life long journey with her.
It was rated highly
It was rated highly, the reason I choose it. The matching engine seemed to work after a fashion, I've not used any other site, so don't know how this compares. There are certainly many lovely ladies on this site. I would like two things to change. One, a search by user name would be awesome; many times I saw someone who then disappeared, and it was very hard to find them again. Two, I would love to export my chats; I have had to screenshot them, and we chatted a lot before we met, so this took forever.
I would recommend this to everyone. Good luck.
I would recommend this to everyone. Good luck.
I met my dream partner
I met my dream partner fell in love and am planning on making her my bride in the near future.
Worked for me
The personality matching seemed to work very well and helped me to find a perfect partner with whom I have a wonderful relationship.
I recommended
I recommended, you may try this !
Easy to use website!
Easy to use website! Met my perfect match on my first date. Its so easy to break the ice on-line and ask those questions you normally wouldn't because its awkward in person. I am thrilled to have finally found my missing puzzle piece!!
Very good experience for dating site.
Very good experience for dating site. I would use it again.Hope everyone has the same experience. I wish everyone luck in their search. Everyone was nice and pleasant to talk to. Not like other sites where all they are looking for one thing.
Fast way to meet people
I think this is a fast way to meet people. However, I do not like the fact that people can see when you review their profile. I also do not like that you can see when someone comes on line.
This is the best dating website in the world
This is the best dating website in the world, it keeps you informed all the time! And allows everyone to actually talk. The reminders are my favorite.
There are too many liars
There are too many liars, fake people, and men pretending to be women on this website. I am a lesbian looking for a woman and all I got were messages from males pretending to be female. They were guys pretending to be women. How desperate is that? I have been on this website for 6 months and there is no single lesbian woman on here. It's mainly fake profiles or married bisexual women or swingers.
Stay away
Stay away. They are dirty rotten company with no morals or ethics that obviously have slave labor deceiving customers! BIG FAT WARNING!!!!
These guys are manipulative...Beware!
AsianDate.com randomly populates your Views with people who didn't actually view you. For instance, if someone Views you once, AsianDate.com will put them into your Views randomly after that, causing you to think someone is "Hot" for you when they actually are not. Also, when I met someone locally, I tried to change my profile, and AsianDate.com would not allow the change. These guys are manipulative…Beware!
Awful site
Awful site. It seems like only the worst most despicable men sign up on this site. Also, if you are looking for a fit attractive man you're not going to find it here. If you want crazy, unattractive, just sex, and the biggest losers on the planet then sure sign up. I met a great man on Match.com. Not perfect either but at least there are some good ones there.
BEWARE.....
This online dating site is totally over run and hi-jacked by scammers!! BEWARE….. The few honest users you may stumble upon are few and far between. If you've had any experience with the low life predators out there, spare yourself ….
Dont trust ladies in AsianDate
I have been cheated in Asian date from a lady that lie I went to China and the lady wasnt the same as the picture and also try to get money out of me with a translator lady she hired. She also said she was 46 years old and she was 56 the pictures she posted they werent who she was, she said she run business of Tea industry and it was a lie, and many others lies.